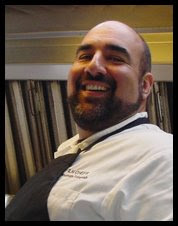 It's that time again where another lucky Astorian gets to answer the big 5. This month we get a friend and fellow foodie.


Who
:
Jonathan Forgash
Owner & Chef of Star Struck Catering, Astoria NY.
Starstruckcatering.com
Question #1
Were you born here? If not, where were you born, and what brought you to Astoria?
Born: Brooklyn, NY. Grew up on Long Island.
Moved from Greenwich Village 15yrs ago because it was too expensive. Astoria was cheap, close to work and interesting.
Question #2
What is your favorite thing about living in Astoria?
The many cultures represented here. The people and their foods, Fantastic! The many friends we have here, Astoria is a family neighborhood and we love it. My work is also here. What a great place for a chef to live, work and sh
op. Every restaurant, market, shop and neighbor is an inspiration for the dishes I create.
Question #3
What is your number one go to restaurant in Astoria?
That's not fair and you know it. I will give three.
-Bistro 33 for perfection, inspiration and watching a great chef in action.
-Il Bambino for a chef showcasing his skills through simple high quality products and superb flavors.

-And of course Kebab Café where a Master, Ali, shows you what cooking from the heart and home is all about.
Question #4
Best kept local secret that you don't mind sharing?
There are some crazy foodies in Astoria. We make all sorts of homemade foods. Cured meats, pickled items, spice mixes, pate' and fresh sausage. I think Astoria may become the great foodie Mecca of NYC.
Question #5
What would you like see happen in/for Astoria in 2008?
A honky tonk American joint for Burgers, bbq, Southern foods, milk shakes and some good bourbon at the bar. A juke box with Johnny Cash and the Violent Femmes.